News
Johnson Ohana Foundation Gift Nurtures Explore Ecology's School Gardens Program
October 06, 2020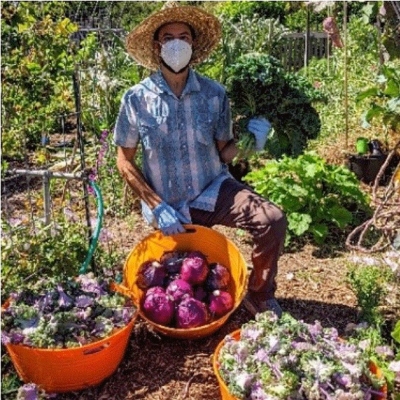 The Johnson Ohana Foundation has awarded Santa Barbara nonprofit Explore Ecology a $10,000 donation for general support of its School Gardens Program.
The Johnson Ohana Foundation was founded by musician Jack Johnson and his wife Kim to support environmental, art and music education. Over the last decade, the Johnson Ohana Foundation has directed some $135,000 in grants to support Explore Ecology's school garden and watershed education programs.
"We are beyond thrilled to receive this generous donation from the Johnson Ohana Foundation," said Lindsay Johnson, Explore Ecology's executive director.
Their support of Explore Ecology programs over the past 10 years helps us continue our important work of educating Santa Barbara County youth about food literacy, organic gardening, composting, and healthy food," she said.
"We thank Johnson Ohana on behalf of Explore Ecology and all of the students and families whose lives are positively impacted by school gardens," she said.
Explore Ecology's School Gardens Program is thriving and producing abundant food, even in the pandemic. Explore Ecology Garden educators have been working to bring the school garden experience to homebound students via virtual lessons and garden tours, at-home DIY projects for kids and families, and Pop Up Harvest Day Markets.
Explore Ecology staff have created online content for teachers and students on topics ranging from red wiggler worms to how to go on a plant walk. They've set up projects like Grab and Go Garden Kits with video instructions on how to start seeds. They are also maintaining gardens and harvesting a lot of fresh produce.
Garden educators have made some of the produce available to families for free by holding pop-up markets at several Santa Barbara County schools.
A table at Monroe Elementary, set up on a recent morning, was filled with fresh organic produce including kale, chard, cabbage, fennel, fava beans and herbs. Families practicing safe physical distancing picked up the veggies and took them home to enjoy. The table was bare within 45 minutes.
Explore Ecology is inspiring children to stay connected to their school gardens, eat their vegetables, and spend time in nature. In elementary schools throughout Santa Barbara County, garden educators teach kids how to grow food.
Using the garden as an outdoor classroom, students learn about planting, cultivating, harvesting, composting and nutrition. Students in the School Gardens Program grow organic vegetables, and healthy bodies.
Research shows that children who grow their own food tend to eat more fruits and vegetables, have a greater understanding of ecology, and receive higher test scores in science.
Explore Ecology is an environmental education and arts nonprofit that educates 38,000 children a year. Explore Ecology programs include the Art From Scrap Creative ReUse Store and Gallery, Watershed Resource Center, and School Gardens Program. For more, visit ExploreEcology.org.
Most recently, the Johnson Ohana Foundation has supported environmental art projects that integrate the main funding themes of sustainable local food and plastic-free initiatives.